Alma Briosa produces this gums gel connecting several remedies from popular tradition around the world. The result is an highly effective product for babies' gums.
The gel contains:
Amber powder, whose succinic acid has a beneficial effect on reddened gums and gives serenity to kids.
Honey with Rose petals, a new approach to an old galenic remedy, known as "rose honey". Rosa centifolia petals, rich in tannins, act as local astringent. Honey gives a pleasant aroma to the gel.
Manuka honey is a remedy coming from distant Maori tradition. This honey is produced by bees fed with the nectar of the Manuka trees (in Australia and New Zealand). Manuka honey has soothing, anti-bacterial, and healing properties. It contains a pool of enzymes that boost immune system and prevent the inflammatory processes. Alma Briosa uses MGO 120+ organic Manuka honey.
Italic Helichrysum extract reduces skin irritations and rednesses. Moreover, Helichrysum has anti-swelling, and decongestant properties.
Organic Aloe gel is rich in mucilage and is healing, soothing, anti-reddening and skin moisturizing.
Holy Basil Extract (Tulsi), according to Ayurvedic medicine, has several properties. It is anti-inflammatory, anti-oxidant and anti-bacterial.
How to use: apply a thin layer of gel on the red and delicate gums. Repeat the application several times a day.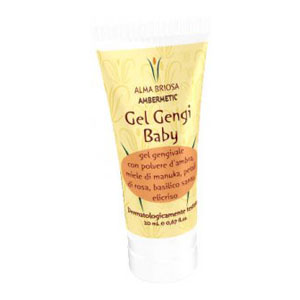 Natural Functional Principles
Amber powder, Manuka honey, Rose petals, Holy Basil, and Helycrisum
Scent
Neutral
Size
20 ml tube
Autocert Bionatural Certificate
Yes
Nickel Tested
Yes
Dermatologically Tested
Yes
Vegan
No
INCI
INGREDIENTI: Aqua**, Miel**/***, Xanthan Gum**, Aloe Barbadensis Leaf*/**, Rosa Centifolia Flower Extract**, Helichrysum Angustifolium Flower Extract**, Amber Powder**, Ocimum Sanctum Leaf Extract**, Glycerin**, Potassium Sorbate.
* from organic agriculture
** ingredient of vegetal/natural origin
*** contains organic Manuka honey
Code
AM-014